Different from other games, there are no money and other items in the Path of Exile. The transactions rely on items called POE Currency, such as various types of rare stones. POE Currency plays a specific role in the creation and enhancement of character equipment Features.
Generally speaking, if players want to get Path of Exile Currency, there are roughly three ways:
1. It can be obtained by playing monsters or opening treasure chests
2. Obtained by trading specific configuration items to any town supplier
3. You can choose to Buy POE Currency from a reliable supplier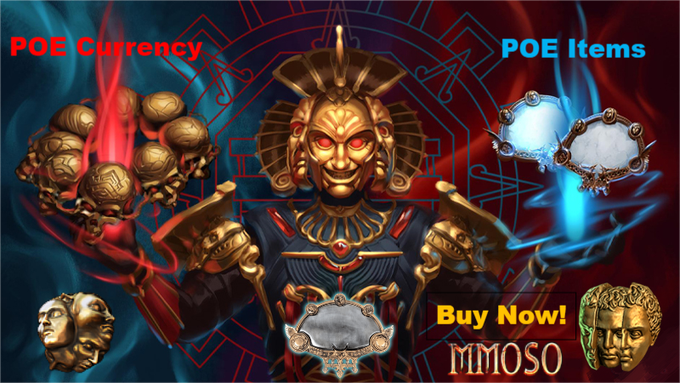 Since POE Orbs play a vital role in the entire game, it is recommended that POE players Buy POE Divine Orbs, Exalted Orbs and Chaos Orbs from the reliable POE Goods supplier MMOSO.
We provide a professional supply team to protect your legal supply, first-class customer service to ensure your even delivery and complete POE Trade policy to ensure the safety of your transactions. Buy POE Currency on mmoso.com is your best choice.
MMOSO has focused on POE Currency Trade for many years. We only use transactions with account levels of 90+, which are safe and reliable, and reject transactions with low-level accounts.
As a seller: The account we use for trading is level 90+. We usually play, so it is safe and reliable. Buyers and sellers are the same, and transactions with low levels have relatively higher risks. We never trade with low-level accounts.
Buyer notice:
Old Account: The buyer's old server has a role, the new server, and the account of the newly created role is level 25+ transaction security.
New Account: The new Account level is too low and the risk is high, so if you are a novice player and want to buy POE Currency, MMOSO recommends that your account be at least level 25+, or even level 40+. It is better to trade in the Outside world more securely.
MMOSO will also provide Path of Exile Orbs for sale. We always keep Full instock, Hand-made, No risk, No fraud. After placing the order, if you have any questions, you can contact our 24/7 Live Chat at any time. It is best not to talk in the poe game.