Orbs, Scroll and Catalyst are the main currencies in Path of Exile, and these are mainly used by players to trade with each other. Each type of currency has its own purpose and can add, remove, or change the attributes of nearly every non-corrupted, non-unique item in the game. PoE currency can be looted from monsters and can be found in all areas starting at level 1. Presumably even the most expensive currencies in PoE such as Exalted Orb or even Kalandra Mirror can be found in quests. But when you're a low-level player, you'll almost never find rare currency this way due to the slow rate at which you progress and eliminate enemies, and the monsters' item rarity and quantity stats are greatly reduced. The best way to earn currency in Path of Exile is to efficiently farm maps and other core game mechanics such as Delve, Incursion, Legion, or Blight. For the most part, League-specific activities are very rewarding, and progressing through them can help you amass a lot of wealth along Path of Exile.
In order to earn a lot of currency in Path of Exile, you need to be familiar with each of its types and know when and why to use it, or whether you should use it! Even low-level Orbs hold significant value and can be traded for powerful rare and unique items. You should consider using 90% of Orbs as a gamble, with the exception of Orbs that increase the quality of items and Orbs of Regrets. All other currency types are RNG-based, and they can have unwanted effects, possibly requiring you to spend more and more currency in the process, or completely destroying your items. For example, the Orbs of Alteration, one of the most common Orbs in PoE, is easily obtained by players of all levels from farming as well as supplying random items. But on the other hand, they're also used by the advanced players by the thousands in expensive but potentially very valuable crafting processes. This creates a very high demand for them and greatly increases their market value. Many Orbs are used in the production of the end game, so they may have a higher value for players who actually do so, and much lower potential for casual players. All Orbs can be traded with other players, and exchanging Orbs of different types is a very common activity. Some players even focus primarily on exchanging PoE currency, and can make a small profit if they do so 24 hours a day. You should also understand that PoE Currency is a very tangible and valuable commodity.
Generally speaking, if players want to get Path of Exile Currency, there are roughly three ways:
1. It can be obtained by playing monsters or opening treasure chests
2. Obtained by trading specific configuration items to any town supplier
3. You can choose to Buy POE Currency from a reliable supplier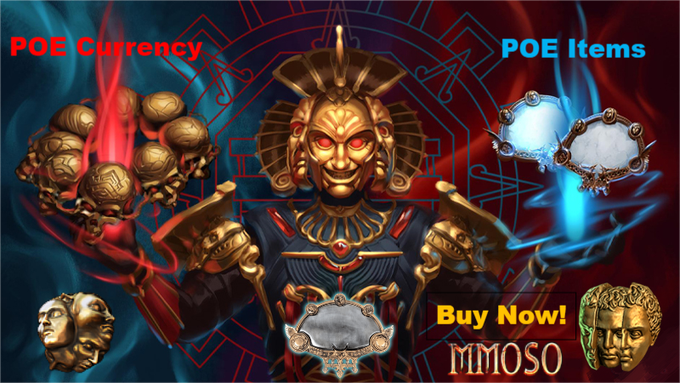 Since POE Orbs play a vital role in the entire game, it is recommended that POE players Buy POE Divine Orbs, Exalted Orbs and Chaos Orbs from the reliable POE Goods supplier MMOSO.
We provide a professional supply team to protect your legal supply, first-class customer service to ensure your even delivery and complete POE Trade policy to ensure the safety of your transactions. Buy POE Currency on mmoso.com is your best choice.
MMOSO has focused on POE Currency Trade for many years. We only use transactions with account levels of 90+, which are safe and reliable, and reject transactions with low-level accounts.
As a seller: The account we use for trading is level 90+. We usually play, so it is safe and reliable. Buyers and sellers are the same, and transactions with low levels have relatively higher risks. We never trade with low-level accounts.
Buyer notice:
Old Account: The buyer's old server has a role, the new server, and the account of the newly created role is level 25+ transaction security.
New Account: The new Account level is too low and the risk is high, so if you are a novice player and want to buy POE Currency, MMOSO recommends that your account be at least level 25+, or even level 40+. It is better to trade in the Outside world more securely.
MMOSO will also provide Path of Exile Orbs for sale. We always keep Full instock, Hand-made, No risk, No fraud. After placing the order, if you have any questions, you can contact our 24/7 Live Chat at any time. It is best not to talk in the poe game.